Poly Strapping
Poly strapping is designed for a wide range of applications. It can be used for bundling products in retail, for load stabilization, and also for heavier loads. It is also a cost-efficient alternative to steel strapping. Plastic strapping is available in a wide range of sizes to address different packaging applications. Battery powered tools provide high efficiency and productivity in poly strapping applications.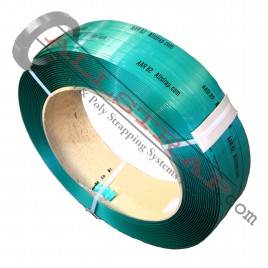 Polypropylene Strapping
Polypropylene strapping is available in 1/2" and 3/8" sizes.
1/2" – This strapping is available in thickness of 0.015" and weighs 23 lb per coil.
3/4" – This polypropylene strapping is available in thickness of 0.022" and weighs 25 lb per coil.
Nylon Strapping
Nylon strapping is available in several sizes to address different needs. This includes the following sizes and configurations:
1028HR: It is 5/8" wide and has a break strength of 1000 lb
1035HR: This 5/8" nylon strapping has a break strength of 1300 lb
1040HR: This strapping measure 5/8" in thickness and has 1400 lb of break strength
1240HR: This is a 3/4" nylon strapping with 1700 lb of high break strength
1250HR: At 2100 lb, this 3/4" strapping has the highest break strength in its segment
Battery Powered Poly Strapping Tools
There are many proven battery powered poly strapping tools in the market. Some of the most popular options are as follows:
Signode BXT3 Series: The BXT3-16 is a proven battery tool that runs 1/2" and 5/8" polyester and polypropylene strapping and pulls 90lbf to 560lbf tension. The BXT3-19 is designed for 5/8" and 3/4" polyester strapping and generates up to 1000lbf. The other tools in this series include the BXT3-13 and BXT3-25/32.
Fromm P328: This battery powered poly strapping tool runs 1/2" to 5/8" PET and PP straps and pulls up to 584 lbf. Some of the other popular tools in the series include P329, P331, P325, P330, P327, P324, P326, P320, P321, P322, P323 and many others.
Orgapack OR-T 260: A highly user friendly battery tool, the OR-T 260 an be used in automatic and different modes with 1/2" to 5/8" straps. Some of the other proven performers in this series include the OR-T 450, OR-T 130, OR-T 50, OR-T 400, OR-T 250, OR-T 300, OR-T 100, and OR-T 120 among others.
There are many other proven battery-run poly strapping tools including Signode BXT2-10, BXT2-16, BXT2-19 and BXT2-25/32, Dynamic 2100, MT450, B1200, B1000, B800, B600, B400, GripPack Cutter, ZP97, ZP93, 401-2130, Columbia Power HP, and many more.